Der Graffiti Blog

Archive for Juni, 2011

Das Meeting of Styles 2011 war wieder ein voller Erfolg und alle die nicht die Möglichkeit hatten dabei zu sein, hier 2 Clips die euch einen kleinen Einblick verschaffen.
.

.
MEETING OF STYLES 2011 Mainz-Kastell from P.-J. M. on Vimeo.
.
.
Außerdem waren die Jungs von "Graffiti-Rhein-Main" ziemlich aktiv, hier findet ihr eine umfassende Bilddokumentation…
.

.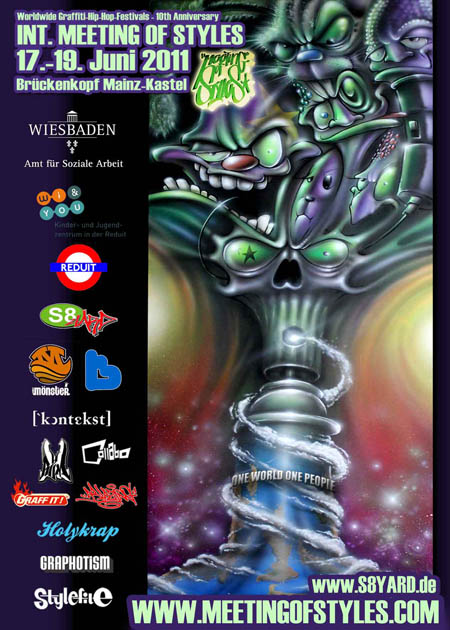 .
Für eine lange Zeit war nicht klar, aber schließlich hat die neue Koalition aus Wiesbaden entschieden, die Veranstaltung in seiner Heimatstadt zu halten!
Und die Veranstaller hoffen, dass die Zukunft des MOS in Wiesbaden jetzt gesichert ist.
.
Darauf hin präsentieren die Veranstaler wieder einmal  Künstler aus aller Welt, die nach Wiesbaden kommen und für ein Wochenende voller Farbe,  in zusammenzuarbeiten riesigen Monumente und Kunstwerke an den Wänden zu schaffen…
.
Daten:
Wo? :
Brückenkopf Mainz-Kastel
Wann? :
17. – 19.  Juni 2011
Artist:
Hitmen Club; One Truth (CH) – LaCremeria; Archigraff; Bergamasterz;
Heavy Artillery; Bad Mother Funkers; Zero; Shine; Royal; Kuno;
Gatto; TDK (IT) – Demon; Zore; Dytch; Putos; Kasm (USA);
The Bater (AR) – Waf & Bird (BE) – Seru & Wes (ES);
Ebee & Teaser (UK); Ogre ; Astro; Kanos; Katre; Esty (FR);
Shuen (GR); Stick Up Kids; The Phunk Masters; The Dark Royalz;
Ill Colors; La Klex; 3Steps; Nitecrusaders; Me; KDZ; Threehouse;
Honsar; Kaseo; Drops; QL; ETC; BKöpp; S8
.
Weiter Informationen: wallstreetmeeting.de
.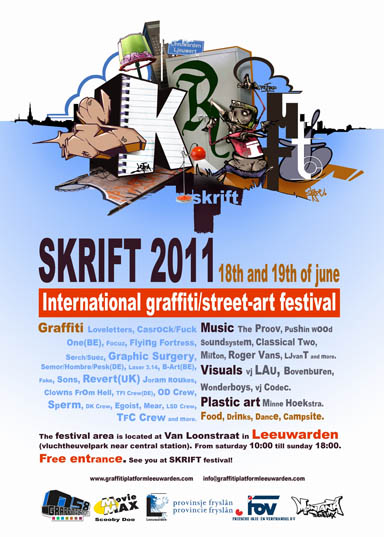 .
Internationales Street-Art-Festival SKRIFT 2011 – 18. und 19. Juni
.
Am 18. & 19. Juni findet das große Street-Art Festival SKRIFT 2011 statt.
Das große Gelände auf der Van Loonstraat (hinter dem Bahnhof) in Leeuwarden, bietet platz für 70 renommierte Graffiti-Künstler aus dem In-und Ausland, die in den beiden Tagen das Festival in ein buntes Fest verwandeln. Darüber hinaus gibt es verschiedene Live-Acts, wie z.B.: Breakdance, Skaten, Hip Hop, Rap, DJs und VJs.
.
Wann?:
Samstag, 18. und Sonntag, 19. Juni, 2011
Zeit?:
18. Juni: 10.00 bis 23.00 Uhr
19. Juni: 11,00 bis 18,00 Uhr
Wo?:
Van Loonstraat, Leeuwarden
.
Für weitere Informationen: www.graffitiplatformleeuwarden.com
.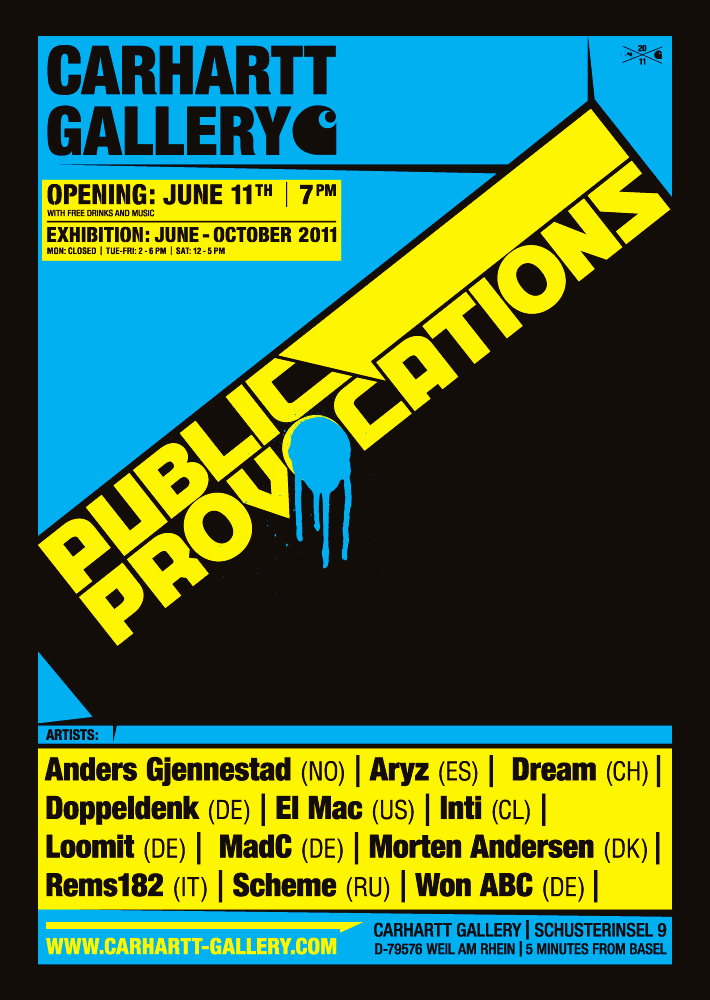 .
Die dritte Public Provocations steht in den Startlöchern
.
Der Startschuss fällt am 11. Juni 2011 um 19 Uhr und hallt bis zum Oktober 2011 nach.
Die diesjährige Ausstellung ist ein Querschnitt durch die aktuelle Arbeiten der Urban Art. Der neue Kurator; Stefan Winterle und das Carhartt Gallery Team zeigen namhafte Künstler und frische Talente. Urban Art lebt durch seine Farben und Künstler. Die 3rd. Public Provocations zeigt Werke von lebenden Legenden und junge Künstler aus Russland, Europa, den USA und Lateinamerika, deren Styles reichen von Schablonen, Acryl, Öl, writing und characters zu architektonischen Kreationen.
.
Daten:
Wo? :

CARHARTT GALLERY
SCHUSTERINSEL 9
79576 WEIL AM RHEIN // FRIEDLINGEN

Wann? :

11. JUNI – OKTOBER 2011

Montag – Geschlossen
Dienstag – Freitag // 14:00 – 18:00 Uhr
Samstag // 12:00 – 17:00 Uhr

Artist:
ANDERS GJENNESTAD (NO)
ARYZ (ES)
DOPPELDENK (DE)
DREAM (CH)
EL MAC (USA)
INTI (CL)
LOOMIT (DE)
MADC (DE)
MORTEN ANDERSEN (DK)
REMS182 (IT)
SCHEME (RU)
WON ABC (DE)
.