Der Graffiti Blog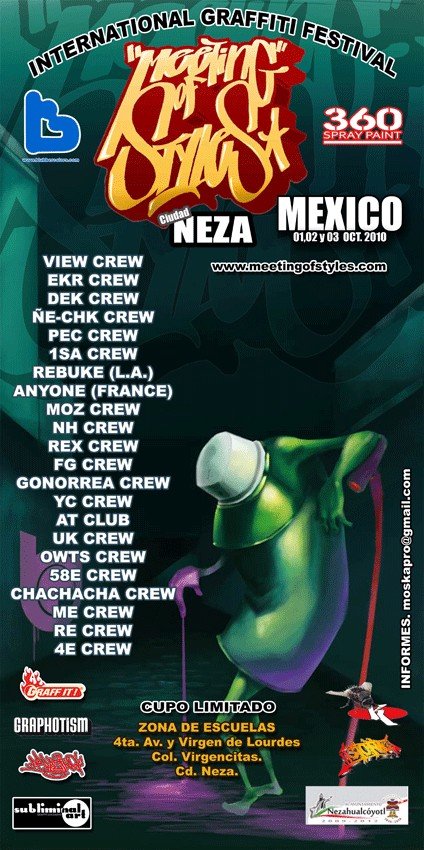 .
Vom 01.10.10 – 03.10.10, findet wieder das Meeting of Styles statt. Es werden unter anderem:
VIEW, EKR, DEK, ÑE-CHK, PEC, 1SA, REBUKE (L.A.), ANYONE (FRANCE), MOZ, NH, REX, FG, GONORREA CREW, YC, AT CLUB, UK, OWTS, 58E, CHACHACHA, ME erwartet.
.
Wo?
.
Mexiko hat eine starke und Graffiti-Scene und hat im MOS-Tourplan seit Jahren seinen festen Platz.
.
Weiter Informationen >hier
.



Wir haben im Netz ein paar Bilder zum Meeting of Styles '09- Mexico & Itlay gefunden, ihr findet diese wie gewohnt in unsere Gallery… Take a look…




Das diesjährige Meeting of Styles 2009 – Mexico, findet von 02. – 04. Oktober wie gewohnt in Mexico-City statt.
Das ganze spielt sich im regionalen Kunstzentrum  in Nezahualcóyotl und auf den benachbarten Hauptstraßen ab.
.
Für nähere Informationen klickt hier…
.
.
Des weiteren sollte man darauf achten nicht in die Fronten des schon langanhaltenden Drogenkriegs zukommen, klingt vielleicht überzogen, doch läuft es in Mexico anders als bei uns.
.