Der Graffiti Blog


Vor wenigen Tagen haben die Jungs von VJiiTV auf ihrem youtube-channel ein Video zum Meeting of Styles '10 Switzerland veröffentlicht. Der ~90 sec. kurze Clip, gibt eine nette Zusammenfassung über das diesjährige Meeting.
.

.
Weitere Informationen unter:
.
.


Vom 16. – 18. Juli 2010, findet in Zürich bei der Roten Fabrik das 3. Meeting of Styles des Jahres statt. Das LineUp findet ihr im Anhang, für weiter Informationen besucht: wallstreetmeeting.de
.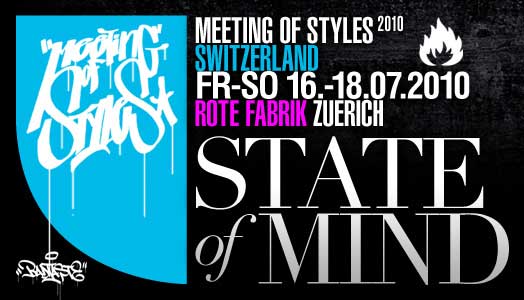 .
Meeting of Styles – Zürich - LineUp 2010
.

VANS THE OMEGA , KNZ Clan, COLLECTIVO WOW, PAIK, MOE, HOMBRE, SEMOR, FANTA, ZESTER, TOMSTA, NYCHOS, BIGUPS , AZEK, SEYB, …
.
Vertretung der Schweiz: CRUZE , EKR , KRON , EZRA , SPOOM , NORM , ONE TRUTH CREW , SCHWARZMALER , RIPS1, SOUP , USB CREW , SONIC , …
.
FREITAG, 16. Juli 2010
.
12.00 – 22.00 Uhr, Yard der Rote Fabrik, Eintritt kostenlos
DJ Kermit · DJ L-Cut · Mr Dent · Dä Schwed
.
22.00 Uhr – Clubraum Rote Fabrik
Eintritt CHF 2.- bis 12.- (control the dize for entry)
.
DJ MONJO (One Truth Music) & Cratekemistry feat. LORD LHUS (USA), MAYLAY SPARKS aka. RAHSHEED (USA), SPLEEN & MAD HABITS (USA), TWO TUNGS (UK)
.
Afterparty by: Cratekemistry Soundsystem, DJ KERMIT, DJ L-CUT, MR. THRILLIN
.
….
.
SAMSTAG, 17. Juli 2010
.
12.00 – 22.00 Uhr  Yard der Rote Fabrik, Eintritt kostenlos
DJ K-RIM, DJ Purple Brain, DJ Soul Sista, DJ G-RaZ, DJ Monjo, DJ Kandoo
LIVE: LDDC in Concert
.
AB 22.00h – Clubraum Rote Fabrik
Eintritt CHF 15 .-
.
DJ K-RIM (4tunedj.ch), DJ T-SHOT (4tunedj.ch), DJ TWINCUT (Twinstarr Music), DJ LIL GEE (One Truth Music), DJ MONO (Supremus Sounds), Hosted by: MISK & SAMURAI aka SAM OIBEL 1.
.
….
.
SONNTAG, 18. JULI 2010
.
12.00 bis 20.00 Uhr Yard der Rote Fabrik, kostenlos
FREESTYLE AM WASSER, COLT MONEY (TO-BE & CHILLA), BOSSNAK, GS CONNECTION, CANAVAR IBS
.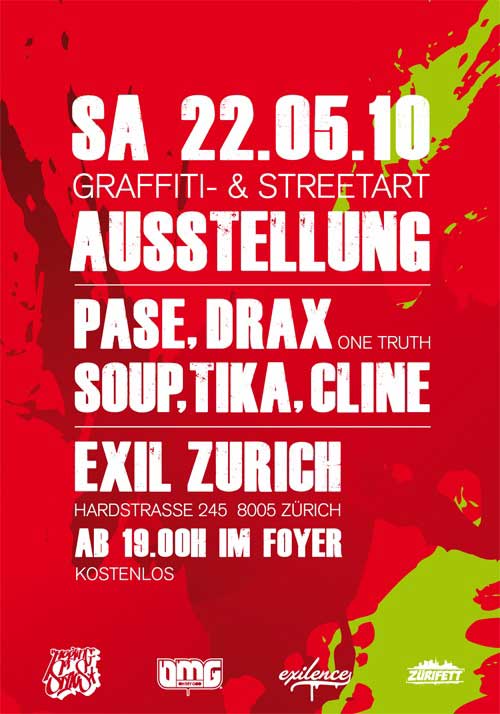 .
Am 22.Mai 2010 habt ihr die Möglichkeit an der Meeting of Styles 2010 Pre-Party im EXIL in Zürich teilzunehmen. Die ganze Sache ist Umsonst und für Unterhaltung sorgen u.a. DJs Aystep und K-Rim… Have fun…
.


Der internationale Graffiti-Event Meeting of Styles macht Halt in der Schweiz.
.
Das Meeting of Styles Switzerland findet dieses Jahr von Freitag, 24. Juli bis Sonntag, 26. Juli im Areal der Roten Fabrik in Zürich statt. über 60 Graffiti-Künstler aus dem In- und Ausland gestalten mehr als 900 m2 Wand zum internationalen Thema "beyond materialism".
.
Die Künstler treffen am Freitag ein und am selben Tag wird mit der Besprechung des Konzepts, der Arbeits- und Platzaufteilung und dem Skizzieren begonnen. Der Samstag wird als zentraler Tag des Events gesehen, am Bild wird die grösste Veränderung zu beobachten sein. Der Sonntag dient als Reflex-Relax-Tag und das Kunstwerk wird in Ruhe fertig gestellt.
.
Für Kinder und Jugendliche werden vor Ort Workshops in Breakdance, Rap, Graffiti und DJ-ing angeboten. Anmelden kann man sich unter meetingofstyles_ch@hotmail.com. Die Anzahl der Teilnehmer ist begrenzt.
.
.
Lineup:
.
.
quelle: onetruth.ch
.