Der Graffiti Blog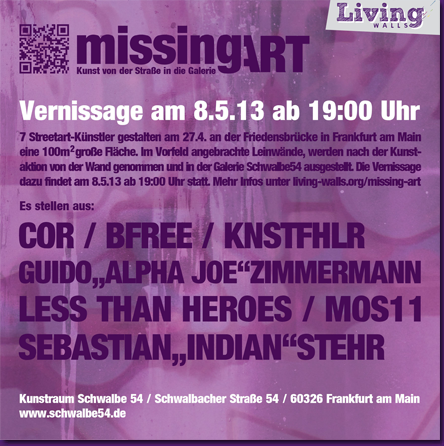 .
7 Streetart und Graffitikünstler gestalten am Samstag den 27.04.2013, an der Friedensbrücke in Frankfurt am Main eine 100qm große Fläche und daran angebrachte Leinwände. Im Vorfeld der Kunstaktion werden an der Fläche mehrere Leinwände angeracht, die zusammen mit der gesamten Fassade, künstlerisch gestaltet werden.
Nach der Aktion werden diese Leinwände von der Wand genommen und in der Galerie Schwalbe 54 ausgestellt. An den dadurch entstandenen kahlen Stellen der Wand, sind dann QR-Codes mit dem Schriftzug missingART sichtbar. Die QR-Codes geben den Hinweis, wo die fehlende Kunst zu finden ist.
.
.
Artists:
COR // BFREE // KNSTFHLR // GUIDO "ALPHA JOE" ZIMMERMANN
LESS THAN HEROES // MOS11 // SEBASTIAN "INDIAN" STEHR
.
.


[UPDATE] Bilder und Videos – JWMN FFM
.
.
.
Weiteres Material findet ihr auf Montana-Cans.com
.
---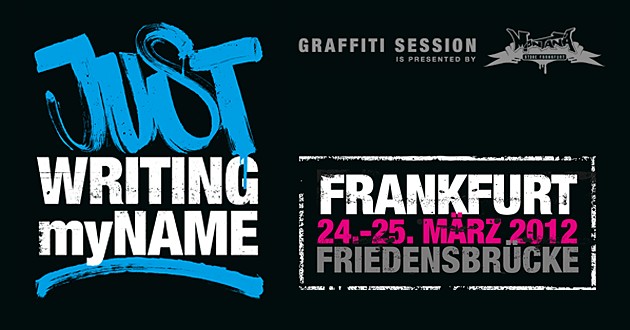 .
Vom 24.-25. März 2012 lädt der Montana Store Frankfurt zur neuen Hall of Fame: Friedensbrücke.
.
Folgende Artists haben bereits zugesagt: Atom, Case, Rusl, Blues Crew, JBCB´s, DBL Crew und the Naxos Bande.
.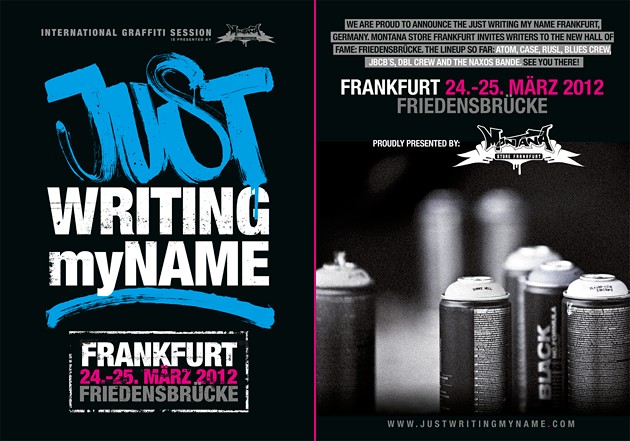 .