Der Graffiti Blog

Archive for September, 2010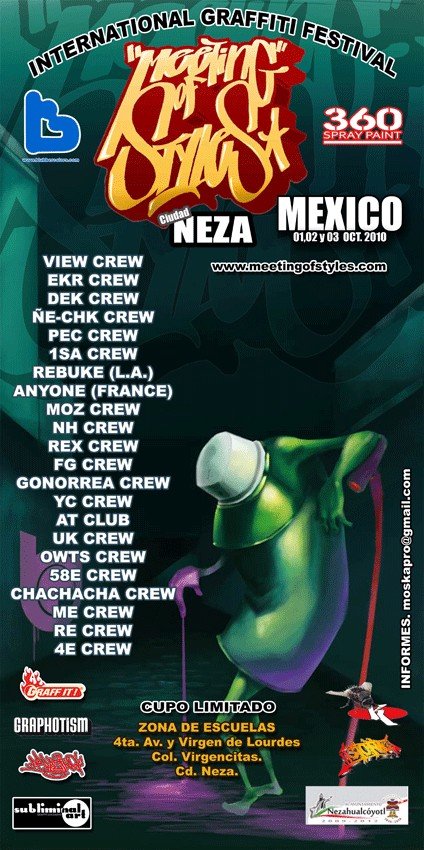 .
Vom 01.10.10 – 03.10.10, findet wieder das Meeting of Styles statt. Es werden unter anderem:
VIEW, EKR, DEK, ÑE-CHK, PEC, 1SA, REBUKE (L.A.), ANYONE (FRANCE), MOZ, NH, REX, FG, GONORREA CREW, YC, AT CLUB, UK, OWTS, 58E, CHACHACHA, ME erwartet.
.
Wo?
.
Mexiko hat eine starke und Graffiti-Scene und hat im MOS-Tourplan seit Jahren seinen festen Platz.
.
Weiter Informationen >hier
.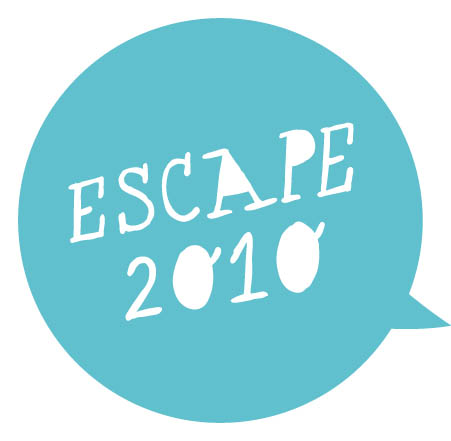 .
International Exhibition of Urban Art
01. 10. – 24. 10. 2010
.
Preview und Pressekonferenz: Freitag, 01. Oktober 2010 | 17 Uhr
Eröffnung: Freitag, 01. Oktober 2010 | 19 Uhr
Adresse: Vordere Zollamtsstrasse 3 | 1030 Wien
.
Die Internationale Urban Art Ausstellung ESCAPE 2010 – Escape the Golden Cage
präsentiert Kunstwerke, die noch nie in dieser Konstellation gezeigt wurden und
öffnet im Oktober 2010 erstmals ihre Türen. Für die Ausstellung wurden spannende
internationale und nationale Künstler eingeladen um die aktuellen Positionen von
Urban Art zu zeigen und zu vermitteln. Vor allem die werkimmanenten Referenzen zu
Raum und Stadt, Comic und Pop sowie Street Art- und Graffiti-Ästhetik stehen im
Mittelpunkt der Show.
.
Künstler:
Asgar/Gabriel, Anton Unai, Christian Eisenberger, Clemens Wolf, Faith47, Jaybo aka
Monk, Marco Pho Grassi, Markus Oberndorfer, Nomad, Paul Busk, Perfektworld,
Scott Malcolm Wigglesworth, Stefan Strumbel, Stephen Tompkins, XOOOOX,
ZTY 82
.
Weitere Infos unter: escape2010.at
.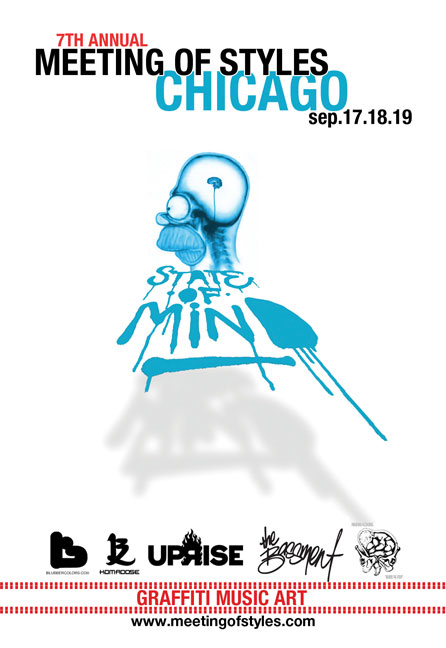 [back]
.
Das Meeting of Styles Chicago, seit Jahren seinen festen platz im Tourplan des MOS.
Vom 17. – 19. Oktober ist es wieder soweit, das 7. Meeting of Styles findet in Chicago statt.
.
Lineup:
.
Freitag, 17. September: Meet and greet @ studio 54b, 2128 s. halsted 19:00 – 0:00 Uhr, freier Eintritt, performers/mcs/djs,art installation
.
Samstag, 18. September: Wall Of Style at 30th St and Kedzie Blvd, Crawford steele walls 36th St and Albany Ave. 12:00 – 19:00 Uhr, DJs/MCcs perform at walls, freier Eintritt
Samstag Nacht: ESP Gallery Show (address pending)
.
Sonntag, 19. September: Bring your own bbq to the walls, finish painting,
Sonntag Nacht: @ darkroom 2210 W. Chicago Ave., all vinyl DJ event for the closing party, headed up by DJ Bvax.
.
Weiter Informationen: >hier
.


Vom 10. – 12. September, macht das MOS halt bei 5Pointz – Graffiti-Factory, NYC.
Leider halten sich die Veranstalter etwas bedeckt, was die Details zum diesjährigen Event betrifft.
.
Weitere Informationen findet ihr >hier oder auf >5Pointz
.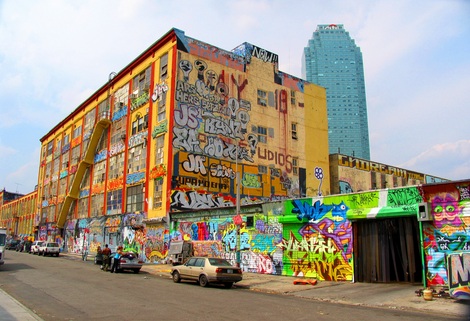 .